Well done to both Leah from Year 5 and Eddie from Year 3 for winning the 'Karen Award' for their commitment to and achievement for the 'Take Care' project we have been running.
Welcome to our school website.
We hope you will find the information on the website useful and that it gives you an insight into our school. If you cannot find what you wish to know please ring the school office and we will do our best to help.
Our school has just converted to become an academy and it might take us a while to update all the information on this web site to have the correct school name on. We will do this as quickly as possible.
Our links to Nottingham University.
As you know we are constantly working hard find different ways to excite and inspire your children. One of the ways that we are able to do this is by using our links with Nottingham University. This year we have already had 3 Science sessions held by students from the University with our Year 5 class. They learned about their bodies and how, particularly their mighty muscles and also germs how they spread.
These inspiring sessions got the children learning in new and practical ways but also helped to raise their aspirations for going to University when they are older. The feedback from the children was very positive.
We are now currently having visits from students carrying out Philosophy sessions with our Year 3 and 4 classes and carrying out a Science After School Club. Keep your eyes open for more opportunities this year.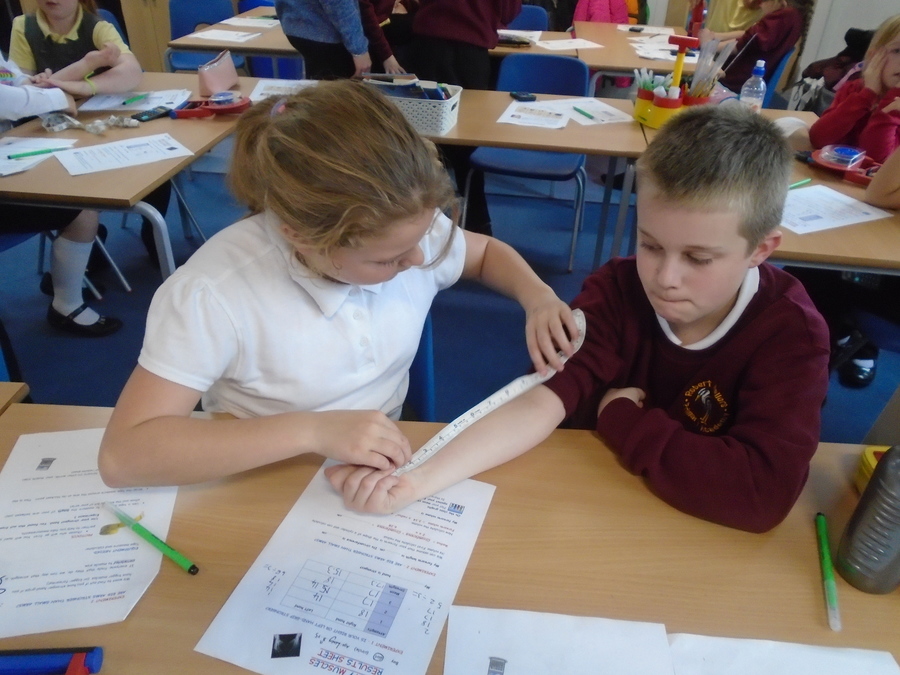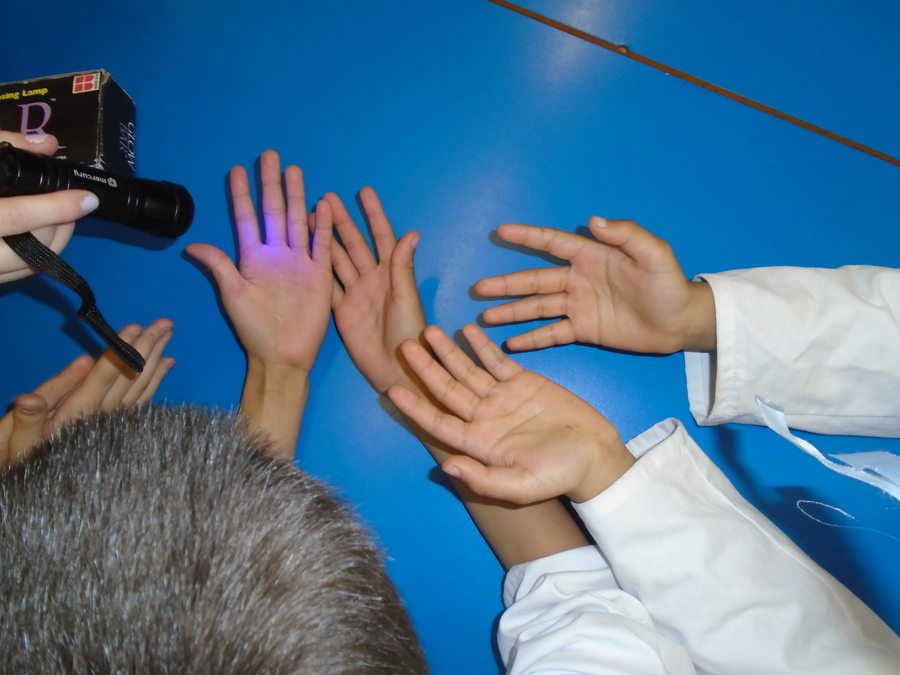 FAMILY DISCOVERY DAY AT NOTTINGHAM UNIVERSITY
Nottingham University invited some of our families to join in a Family Fun Day and a great time was had by all. They organised lots of different activities for everyone to get involved in, across all different areas of interest. The children particularly loved controlling a computer game using only their eyes. We are really appreciative of the University for organising and funding the trip.
Visit from author Daniel Henshaw
On Wednesday 7th March we had a visit from a local author.
Daniel Henshaw came to talk to the school about being an author and writing mystery stories. He held an exciting whole school assembly and then worked with all 4 KS2 classes where they planned their own mystery stories. He was extremely busy signing books and having photos taken at the end of the day.
This event really got the children excited about reading and writing and they were very proud of the stories they wrote. Maybe we have a future published author within our school!
National Justice Museum Nottingham
Year 5 have been asked by the National Justice Museum in Nottingham to help create a new exhibition about Superheroes. We have worked with an artist and a poet and some of our work and ideas will be on display this summer.
Latest Calendar Events
Summer Holiday

26

Jul

2018

School back

05

Sep

2018

Nursery back

07

Sep

2018
KAREN AWARD WINNERS 2018
FOR COMMITMENT TO THE 'TAKE CARE' PROJECT.
Well done to Eddie and Leah.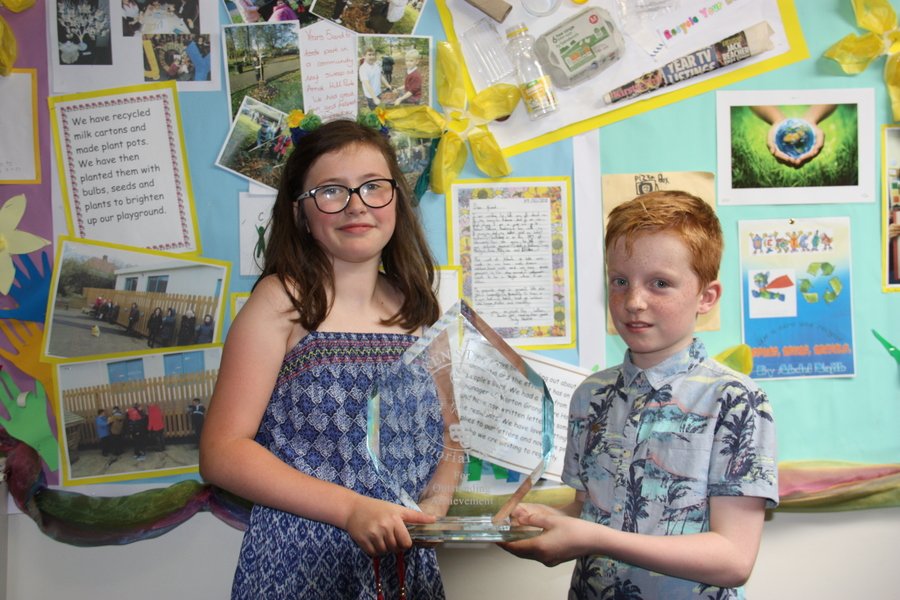 TAKE CARE PICNIC
It was lovely to have so many families join us for our picnic.
BRAND NEW EARLY YEARS UNIT BEING OPENED APRIL 2018
In April our brand new Early Years Unit 'Little Herons Pre School' will be opening. This is a very exciting time for the school as it means that we will be able to offer lots of flexibility for families in our school for early years care. The new unit has been built as part of the governments 30 hour funded care for working parents which is offering up to 45 spaces for 3-4 year olds for any families in the local area, not just linked to our school. We will also be able to offer a limited number of 2 year old funded spaces too.
Please get in touch if you wish to find out more. Tel: 0115 8408068
TAKE CARE LAUNCH AUTUMN 2017
The Mayor of Gedling supported the launch of our 'Take Care' initiative focusing on taking care of ourselves, others, and the local community. A number of other local organisations also attended to share with pupils and their families how they can get involved in activities in the local community.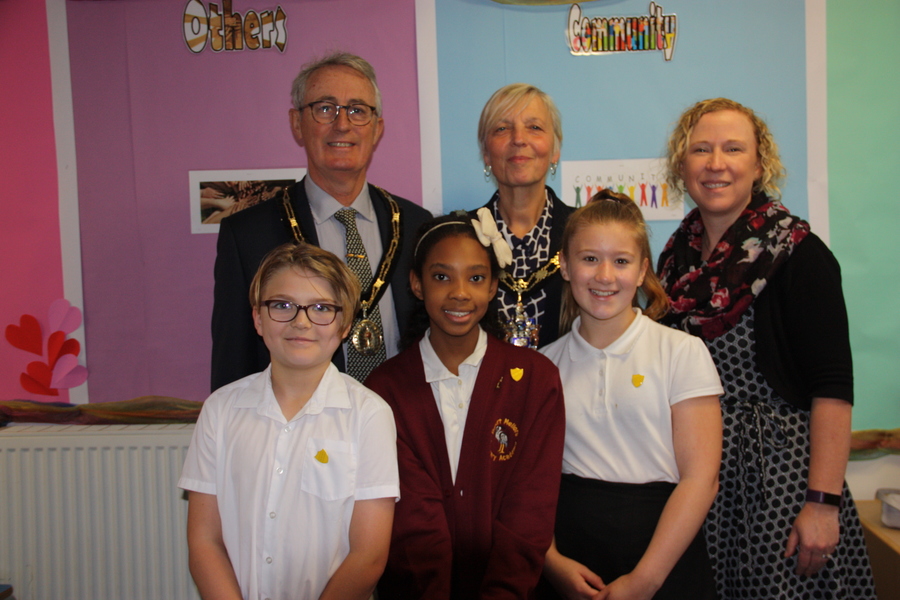 Shine a Light Award
We were excited to be awarded the national 'Shine a Light' award in recognition of all the work we do in school to promote and develop children's speech and language skills. We were shortlisted from a number of schools all across the UK so it was a fantastic honour to win.It was even more exciting to be awarded this by David Baddiel. Shine a light!
Well done to all the staff for their the hard work they put in to help support children and families in school. Thanks too to Mrs Clark for excellent leadership as the award is particularly in recognition of the work done in the Early Years.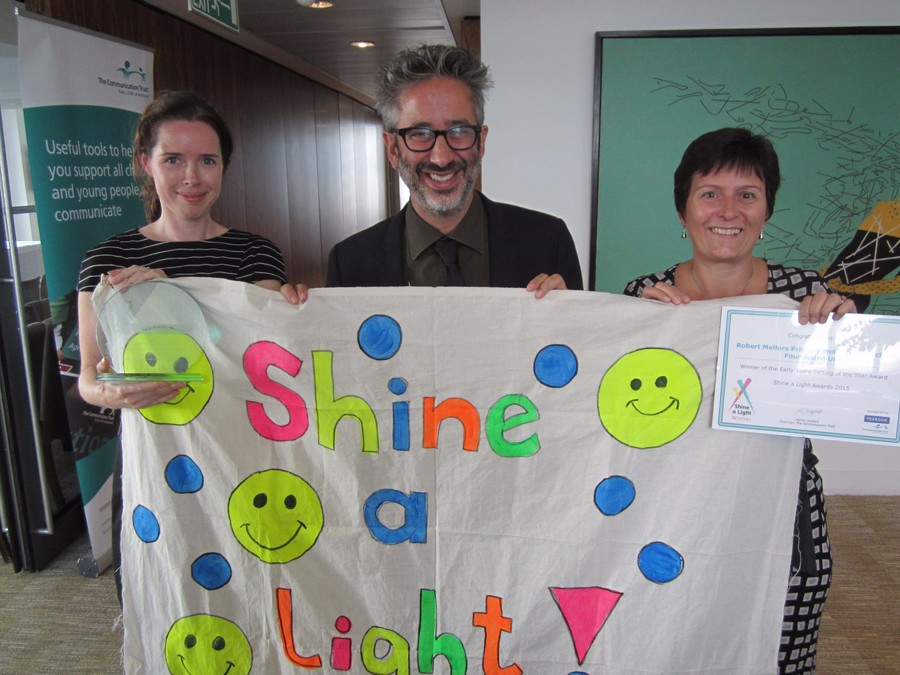 Dementia Awareness
Year 5 are thrilled to have pen pals at Morton Grange Care Home. They were very interested in finding out about dementia from the Manager of the Care Home. We have now made some new friends as we write to each other regularly. We were thrilled to meet each other in person at our tea party where we welcomed our new friends to our school.